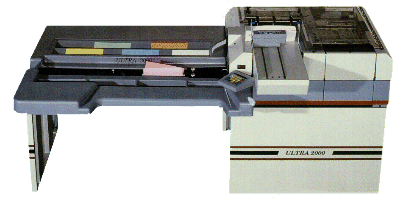 Single Station and Dual Station Features and Benefits
Microprocessor Controlled Electronics
"Smart" solid state electronics ensure accurate, consistent three (3) sided cutting while preserving the integrity of the contents.
Feed Design
Varying envelope sizes may be fed in an intermixed fashion thanks to a flexible design permitting constant jam-free feeding.
Patented Envelope Folding Process
A unique patented folding process delivers contents in an easily accessible upright vertical position separated from the flattened envelope.
Extraction Activation (EA)
Ideal for individual pre-extraction or the Dual Station team processing environment. "EA" responds to contents removal. Envelopes, semi-separated from their contents, travel down an extract track presenting contents on demand for easy extraction.
Operator Friendly
The Data Collection System LCD display prompts the operator through an easy start-up and run routine. Extraction is effortless and unencumbered by vacuum. Each operator has clear visibility of the empty envelope which may be retained if necessary.
Ergonomic Design
Contents in an upright standing position glide beneath the hands of the operator for comfortable, convenient removal and sorting. Customized sortation systems may be special ordered to suit the specific application.
Production Control
Data collection hardware includes a large 16 character LCD display. 16 key, keypad and ribbon printer. Individual or team production and multi-job statistics are reported and archived. Networking of production from multiple machines is offered optionally over the Ultra Systems LAN Manager.
Candler Option
Complete exposure of contents is the first line of defense against mistakenly discarding contents and makes candling a redundant safety feature on the TriFold 2000. The TriFold Candler is an electronic/mechanical device that takes multiple tactile measurements along the length of an envelope to evaluate the probability of any missed contents that may have been left in the envelope after the operator performed the normal extraction function.
Mill Cutting Option
The Mill Cutting feature is particularly important in applications involving folded documents such as check and list, insurance claims processing or marketing survey forms processing. Mill cutting helps insure that multi-folded documents won't be damaged in the opening process.